Riva, the iconic yachting brand is once again side by side with Scuderia Ferrari for the 2018 Formula 1TM World Championship. AIf you were not able to see the Riva 100′ Corsair last year, here's your chance to see her live. This event offer the opportunity to get to know the pair that is based on deep-rooted affinities, bound to leadership in design and production that is the result of the genius and determination of Carlo Riva and Enzo Ferrari.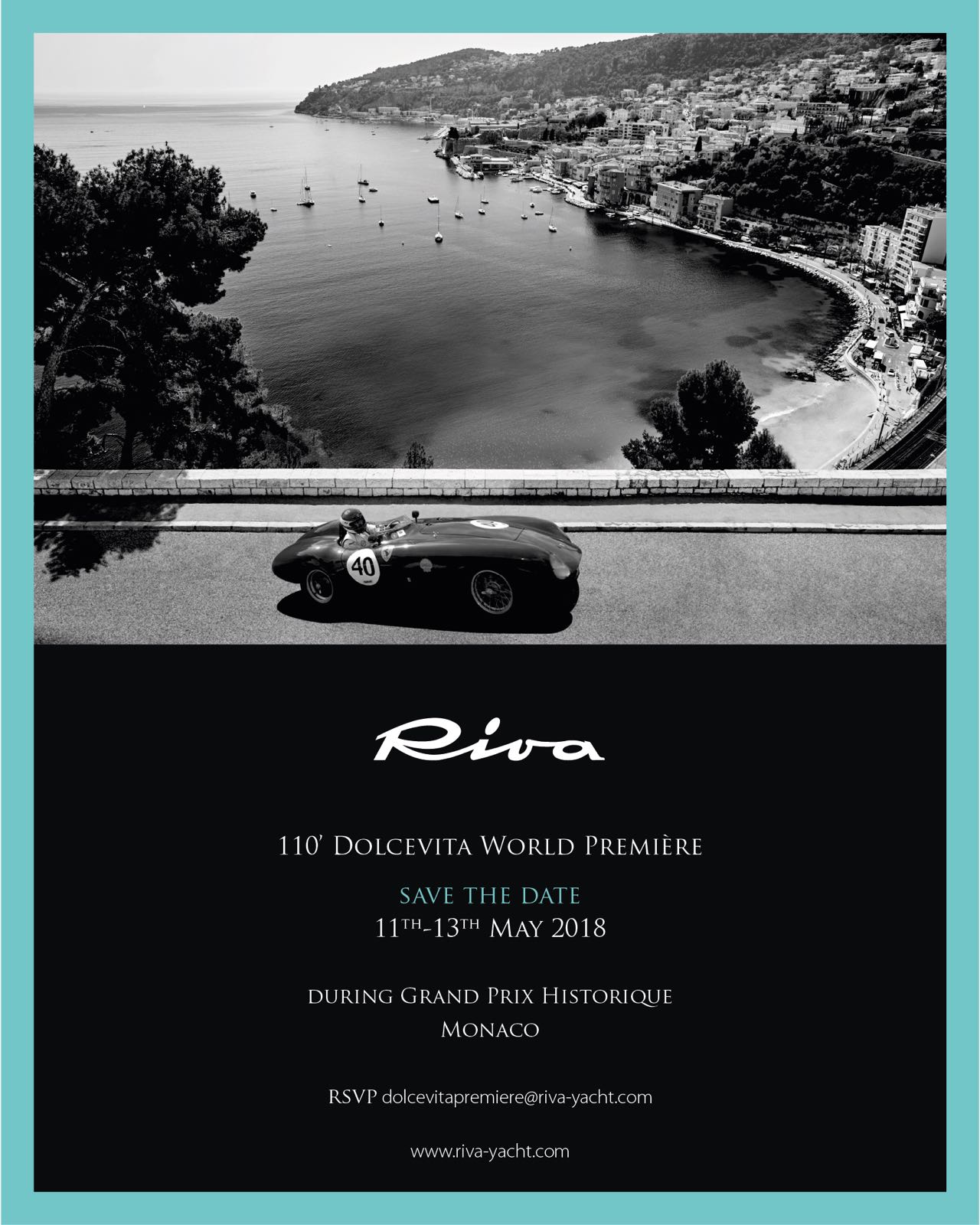 The Singapore Yacht Show is getting closer and we are preparing it at our best.
The line up on display including the premieres at the show:
Riva Perseo 76' (Premiere)
Ferretti Yachts 450
Ferretti Yachts 550 (hard top version-Premiere)
Ferretti 700
Ferretti 780 new, Tai He Ban edition (Premiere)
Ferretti 850, Tai He Ban edition (Premiere)
Cranchi Eco Trawler 43
Boston Whaler 315 Conquest (Premiere)
Private Event:
12th April from 6 to 9 pm
13th April from 6 to 9 pm "Ferretti Yachts 50th Anniversary"
14th April from 6 to 9 pm
15th April from 6 to 9pm "Hong Seh Yacht Owner's Evening"
Kindly note viewings of boats on display are strictly by appointment only therefore viewing appointments are highly encourage to be made prior to the show so as to avoid disappointment.
Contact our yacht brokers at marine.enquiries@hongseh.com.sg to make your appointment.
If you happen to be at the show, drop by for coffee at Berth E10-E01 at the water display area.


Come raise your glass and join in cheers as Hong Seh celebrates 10 Years of Marine! In honour of 10 years of success, we are launching the First In Singapore, the Ferretti yachts 550 and Ferretti Yachts 850 Tai He Ban edition, exclusively for you before the upcoming debut at the Singapore Yacht Show. There will be an open bar, a short performance, brief speeches, good food and company! Festivities begin at 6:30 pm sharp Yacht Launches at 8:00 pm

Celebrate the year end and spend a long, luxurious day on the beach with superb BBQ and beers on us! Swim in the warm water or lie on the soft sand of Lazarus Island, or use the natural peace and tranquility to enjoy some reading or simply doze in the warm, tropical sun.
As the pleasant evening temperatures arrive, refill your glass to the sound of the waves and music or try dancing with a bit of island style.
Lazarus Island is part of the Southern Islands, Singapore and sits approximately 2 nautical miles of ONE°15 Marina, Sentosa Cove. Arrive by your own boat or catch the regular ferry from Marina South Pier.
RSVP is a must!