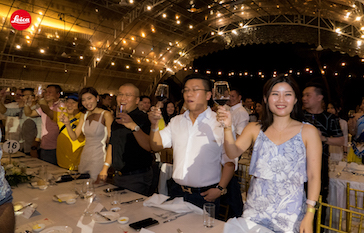 Hong Seh Marine celebrates 10 years of maritime excellence in Singapore
3rd April 2018 – Hong Seh Marine celebrates 10 years of maritime excellence this year. The festivities commenced under the stars as 320 guests at Ola Beach Club, Sentosa witnessed the unveiling of two yachts from Hong Seh Marine's longtime partner, Ferretti Group—FY850 Tai He Ban Edition and FY 550.
A stunning Hawaiian performance by artistes from Vocalise accompanied the new Ferretti Yachts 850 and 550 as they cruised the waters in front of the beach club, much to the delight of their owners and guests. Both Ferretti yachts were making their debut in Singapore.
Fabiomassimo Discoli, Sales Manager, Ferretti Group Asia Pacific represented Ferretti Group—a leader in the construction of luxury yachts and pleasure crafts—at the milestone celebrations. "Our partnership started with Riva Yachts 10 years ago," he recounts. "Wehave been fortunate to grow in Singapore with Alfred and Edward. Ferretti Group has been increasing our partnership with Hong Seh Marine and we will be working together to deliver yachting freedom in Singapore"
Hong Seh Marine is a subsidiary of Hong Seh Group—which marks its 50th anniversary this year. Hong Seh Group was started by Chop Hong Seh in 1936 and has evolved from selling plastics and chemicals to luxury automotive and superyachts in 2018.
"It has been an incredible journey with my father, Alfred. We established Hong Seh Marine together in 2008, when Singapore had not as yet taken to the yachting lifestyle," says Edward Tan, Executive Director, Hong Seh Group. The father and son team persevered and 2017 was Hong Seh Marine's best year yet. "We believe our clients have selected us because they are certain that we will remain by their sides throughout their yachting journey. We grow with them and they become part of our family."
More images can be seen here: Hong Seh Marine 10th Anniversary
Hong Seh Marine 10th Anniversary video: https://vimeo.com/261970507
---