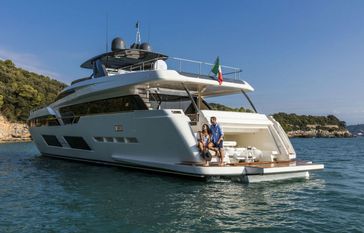 Hong Seh Marine Debuts the Ferretti Yachts 920, Boston Whaler 350 Realm and 320 Vantage at the 9th edition of Singapore Yacht Show
20 March 2019– Leading distributor of luxury yachts since 2010, Hong Seh Marine is proud to announce its exciting line-up for the upcoming Singapore Yacht Show 2019.
The line-up includes:
The Ferretti 450
The Ferretti 550
The Ferretti 780
The Ferretti 850
The Ferretti 920, the giant of the nautical world (First in Singapore)
The Riva 76' Perseo
The Boston Whaler 320 Vantage (Asia debut)
The Boston Whaler 350 Realm (Asia debut)
The Seavee 430
This showcase of yachts will definitely impress at the upcoming Singapore Yacht Show held annually at ONE°15 Marina Club from 11 to 14 April 2019. Prospective buyers can visit Hong Seh Marine's booth at E dock to register their interest in viewing the yachts.
---