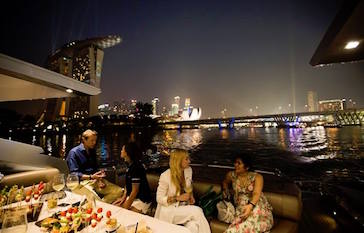 Style Seduces Technology Event – Marina Bay Singapore
18 September 2014 – A collaboration event with the high-end Italian fashion brand, Ermenegildo Zegna, Hong Seh Marine and Ferretti Group is displaying the amazing Pershing 64′ for the very first time in Singapore's Marina Bay. The event coincides with the 2014 Formula 1 Singapore Grand Prix, the annual appointment that gives life to the whole city. Pershing and Hong Seh are taking advantage of this occasion to invite over 100 Ferretti Group VIP clients and numerous journalists in an event called 'Style Seduces Technology'.
Guests will enjoy the race on board by live stream television, listening to the sounds of cars and feeling the race adrenaline: Pershing 64 will be moored close to the Marina Bay Street Circuit, an unconventional and prestigious location, taking on a pleasant cruise on the background of Singapore's bay.
The event also marks the collaboration between three Italian luxury brands: Pershing, the legendary stylist Ermenegildo Zegna and Maserati, universally recognized sport car manufacturer. Brands collections will be displayed on board, introduced by a presentation of every brand leading the guests through a complete Italian experience.. One of the highlights of the event, is the local launch of the Zegna – Maserati Owner collection, accompanied by Italian wine and food tasting.
Stefano de Vivo, Ferretti Group Chief Commercial Officer, sums up the excitement filling the event: "We are delighted to let our customers enjoy the race on board one of our most successful Pershing models. Brand and Group's commitment to the Singapore market remains as strong as ever and we will reinforce our presence in the coming years through the invaluable assistance offered by our local partner Hong Seh."
Edward Tan, Hong Seh Group Executive Director, continues: "We are offering a very unique experience to our customers, something that nobody else has ever done before here in Singapore. We are gathering together three Italian luxury brands that represents the utmost essence of quality, for a 360° experience of Italian style and design".
Pershing 64, best seller of the Pershing fleet, is a great example of Pershing design and technology with all the space and luxury of a flybridge yacht combined with aggressive open yacht contours and sports style performance.The yacht includes a spacious saloon and helm station, which are both light by elegant and harmonious long side windows. Its exterior is complete with the kind of luxuries typically found only on larger boats, such as a double stairway that leads to a spacious cockpit. The craft's twin 1623 hp MTU engines
and two ZF Searex SR120S drives, with Rolla surface propellers, guarantee that the
Pershing 64 will reach peak speeds of no less than 46 knots.
More images of the event can be seen here: Style Seduces Technology Event – 2014 Marina Bay Singapore
---