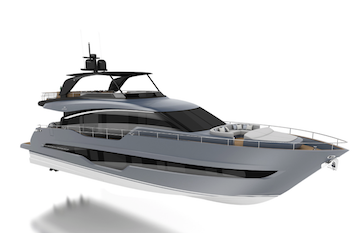 Cranchi Settantotto, reality overcomes imagination
26 April 2018 – Cranchi Settantotto will be the new flagship of Cranchi Shipyard.
Its debut on the market is scheduled for 2019.
With the recent arrival of the moulds at the Seventy Plant 4 in Rogolo, the production of this model enters its operational phase. The presence of molds on site gives an immediate impression of the majesty of this yacht, destined to be a worldwide reference point in terms of design, technological equipment and quality of fittings, decor, materials and style details.
The quality of the moulds used at the Cranchi factories, as well as the care taken in the treatment of these products, is unmatched in the world.
The robustness, safety and aesthetics of a yacht depend precisely on the molds. The moulds produced for Cranchi ensure the best possible performance and are designed to allow technicians and workers to operate in a comfortable, controlled and precise way.
A real flagship is built placing maximum attention to every detail, starting from the design and production phases. Only in this way can reality overcome imagination.
---